Before we jump to the answer, let us first understand what is Google Knowledge Graph and why is it so important for any business.
Google Knowledge Graph
It is a database by Google about facts, people, places and various other things and how all these are interconnected.
In other words, it's a warehouse of knowledge about what people are searching on Google and what is their intention behind that. According to that, Google provides users with the most useful information to help them.
Google Knowledge Graph is generally the block on the right-hand side of Google when you search for something on your desktop and on the top on your mobile screen. Let's say you are searching for Macy, this is how it will look like –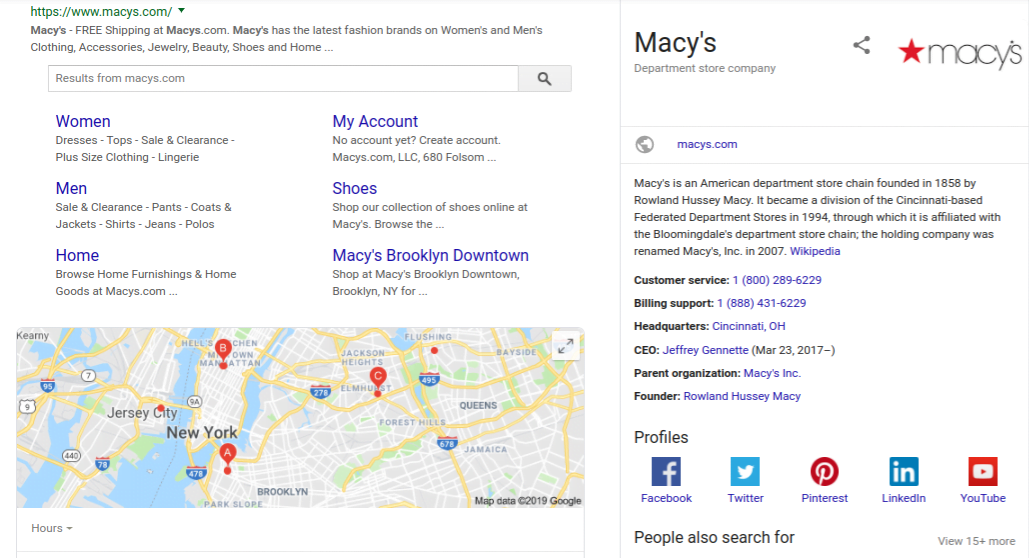 Why Is Google Knowledge Graph Important?
Google has changed its algorithm with the purpose of not just understanding a word but also its meaning.
Concept, as well as context, is becoming important for Google.
Google wants to understand that when you are searching for apple, do you mean the fruit or the Apple technology brand? When you type any question concerning apple, Google is not going to say that you are not clear in your search or will you give us more details before we show you the results. Google just understands what you are looking for and shows results accordingly.
Always correct Results!!!
Google does it with the help of LSI or Latent Semantic Indexing where Google replaces the word with its synonyms which help Google in being correct most of the time. This is what Google is working – deriving knowledge from the vast sea of information it has.
That's the beauty of this knowledge base. It helps Google understands the words better. And you have to help Google in getting more knowledge about your business. As much information you can provide to Google, more productive it will be for your business.
Here are 5 strategies by Bizadmark for you. All these strategies are tested and have shown great results for our clients.
5 Tested Strategies on How to Use Google Knowledge Graph for Improving Your SEO Score
Strategy 1) Try to Get a Page on Wikipedia

If you search a few brands on Google, you will see that most of the data of Google Knowledge are coming from a highly authoritative website like Wikipedia. It shows the importance of being on it. Not only on Wikipedia, try to get a profile even on Wikidata.

Strategy 2) Do Schema Markup

If you haven't used it yet, you shouldn't delay it any further. Though the name and description of Schema markup are scary, it's not as scary as it seems. Google has made it pretty easy for business owners to markup their website.

Strategy 3) Make Content Your Priority

Good content will help you in getting more traffic. More traffic will tell Google that users are able to find what they are looking for on your website which will help Google in rightly updating your information in their knowledge base. This will help you in getting a well-optimized Google Knowledge Graph.

One study by Hubspot said that 80% of web traffic starts via search queries.

So make sure that you are providing the most relevant, accurate and useful information to your audience.

Strategy 4) Don't Underestimate the Power of Social Media

You must have searched a few brands on Google to get some idea about what all the fuss is about. If you have, you would have noticed that Google always shows various social profiles at the bottom of the Knowledge Graph which proves that social media presence is an important part of your business.

If you were ignoring the social media so far, this is the time to go make your profile there to increase your brand's visibility.

Strategy 5) Optimize Your Google Knowledge Graph

This is the step where you help Google to understand your business a little better. How you can do that? The answer is by making sure that your title, description, meta description, keywords, and content are in synch and are talking about the same one topic. This makes it easier for Google to understand you as a brand and what you are offering to your customers.
Conclusion
Google Knowledge Graph is a great way of increasing your brand awareness, your visibility, and brand authority.
We have shared 5 already tested strategies with you in this article.
We would love to hear your story now about how you used Google Knowledge Graph for your business or what kind of problems are you facing in implementing any of these strategies. Get in touch if you want to help you with your knowledge graph.