In this article, we will see some of the amazing billboard ads worth pondering on.
Billboard advertisements have shaped the marketing and advertising world in many ways.
Billboard advertisement has existed for as long as we can remember. They've been creative, beautiful, and also interactive in recent years. Click To Tweet
Moreover, many billboard advertisements nail the creative game so hard that it stays with us for years. 
We all know, its an incredibly competitive world out there, and only that which stands out in the first look is what stays.

This especially applies to billboard advertisements because one only notices it for seconds in a fleeting moment, and you have to decide an ad that sticks into their psyche within that one moment.
That's what makes it tricky and interesting at the same time.
Getting why billboard advertising and a good one at that is important today?
Over the course of decades and decades, many brands huge and small have come up with brilliant, and amazing billboard advertisements worth pondering over.
So, let's take a look at some of my personal favorites.
Formula Jakarta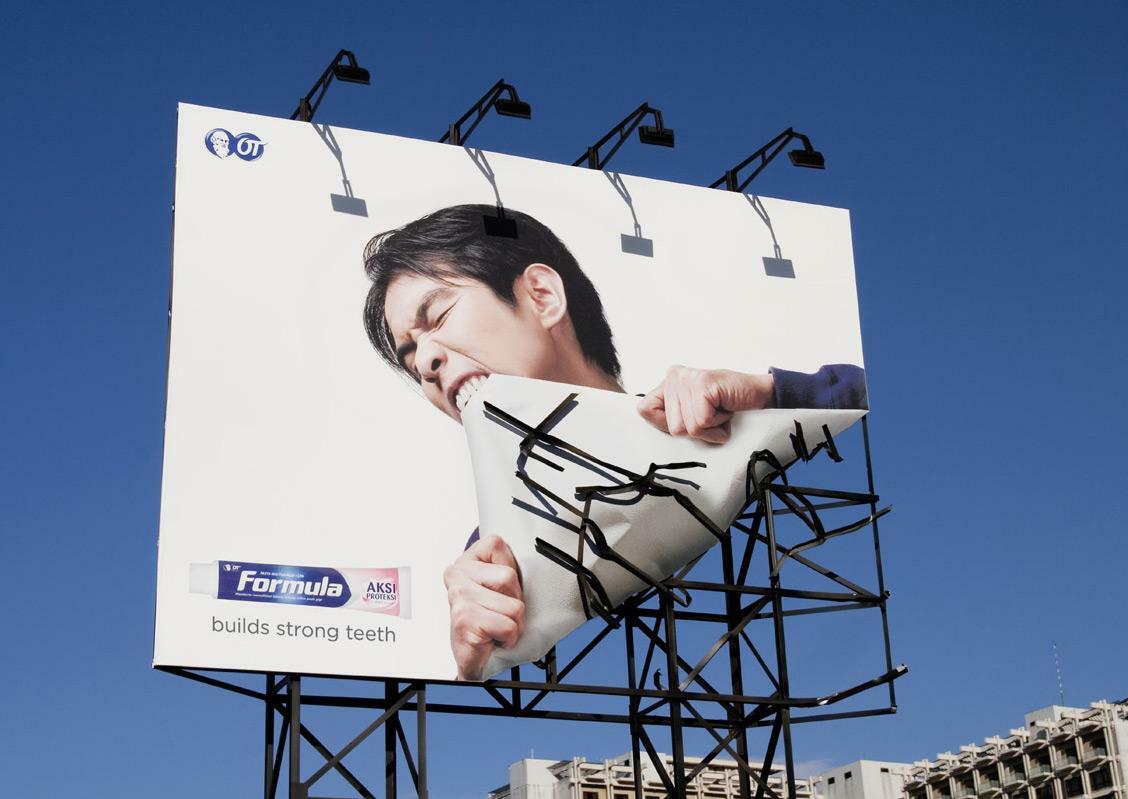 This creative billboard advertisement is sure to leave you pondering over its sheer smartness and brilliance.
To promote teeth strengthening formula, The advertiser decided to go a mile extra in his/her creativity.
This ad depicted a man's teeth so strong that it could take off the entire billboard using his teeth.
Absolute masterpiece isn't it? A billboard ad worth pondering over.
Panasonic Philippines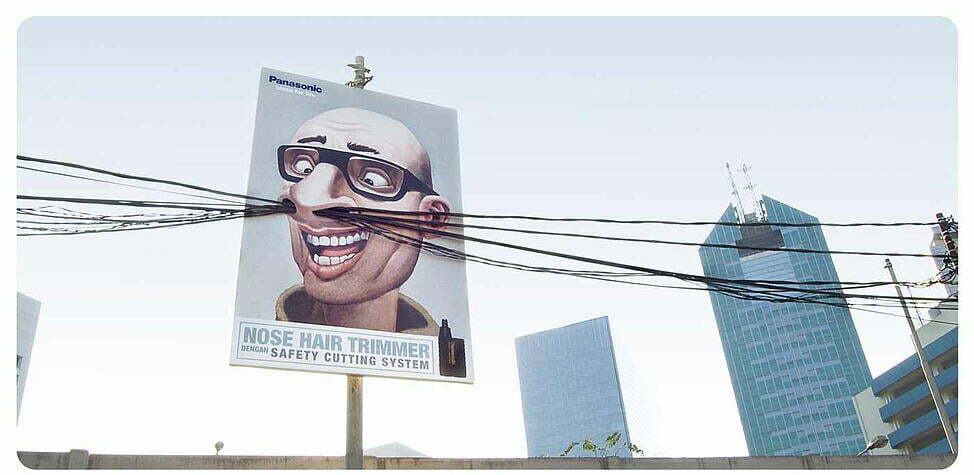 This next one gets me laughing every time I see it or it's variations.
This billboard advertisement compiles creativity with humor and uses the best prop to showcase what they want to.
Behold my friends, this is a hair trimmer ad, and those long nose hair you see are nothing but electrical wires where this billboard was strategically placed.
Amazing isn't it? A billboard ad worth pondering over.
The Economist, UK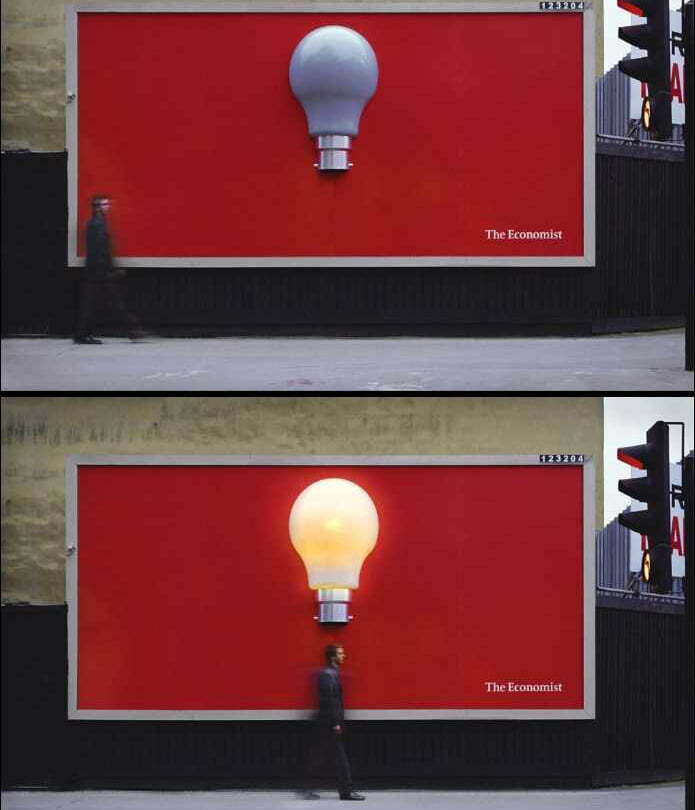 This billboard meets technology ad is beauty and creativity at its best.
The economist came up with this ad in the UK.
It was simple, whoever passed through the bulb, it will light up because the economist gives you ideas.
Bravo to the creative team and the message that's sent across.
Minimalist.
Creative.
Amazing and a billboard ad worth pondering over.
Women's Aid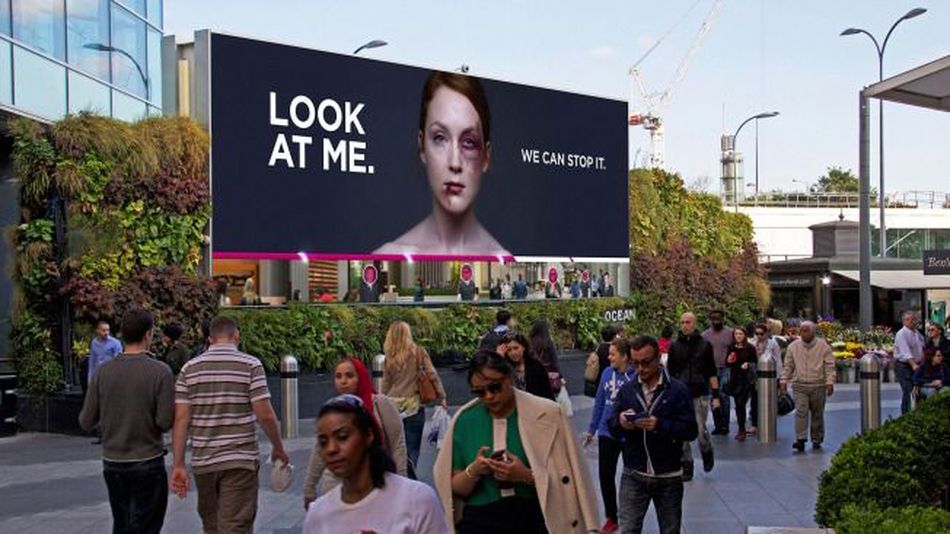 This is another of my favorite billboard ad campaigns worth pondering over.
It sends out an important message in the most creative way, and also makes us aware of the hard-hitting reality that exists.
This advertisement was created for women's aid, it had a real-time count of many people actually looked at the ad and it would increase every time someone looked at it.
Creating awareness of domestic violence.
Full points. Creativity. Full points again.
State Farm, US

Another applause-worthy billboard ad campaign, this one was designed by none other than Todd Perelmuter, Bizadmark, US.
Owning up to the transformer style, this ad for an insurance company stands apart in creativity, content, and execution. Click To Tweet
The unexpected may hit us anytime and that's what this ad plays on.
Then it goes on to send across the message of how state farm can save you from these unexpected attacks.
High on creativity, content, and execution, this billboard ad campaign is worth pondering over.
Conclusion
So there they are. I gave you five of my personal favorite billboard ads.
Believe it or not, each one of these ads has some takeaway for all us marketers and advertisers.
If you have any other billboard ad that you think is worth pondering over, let us know in the comments.
We are always ready to explore new horizons.