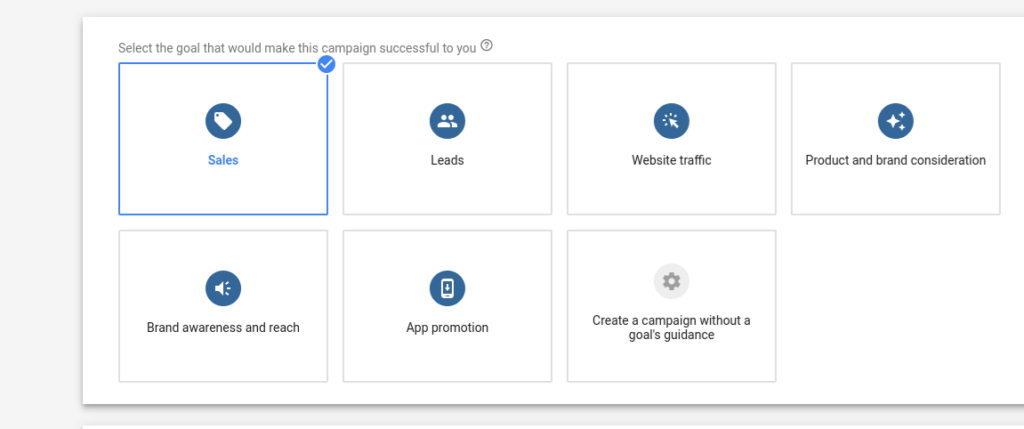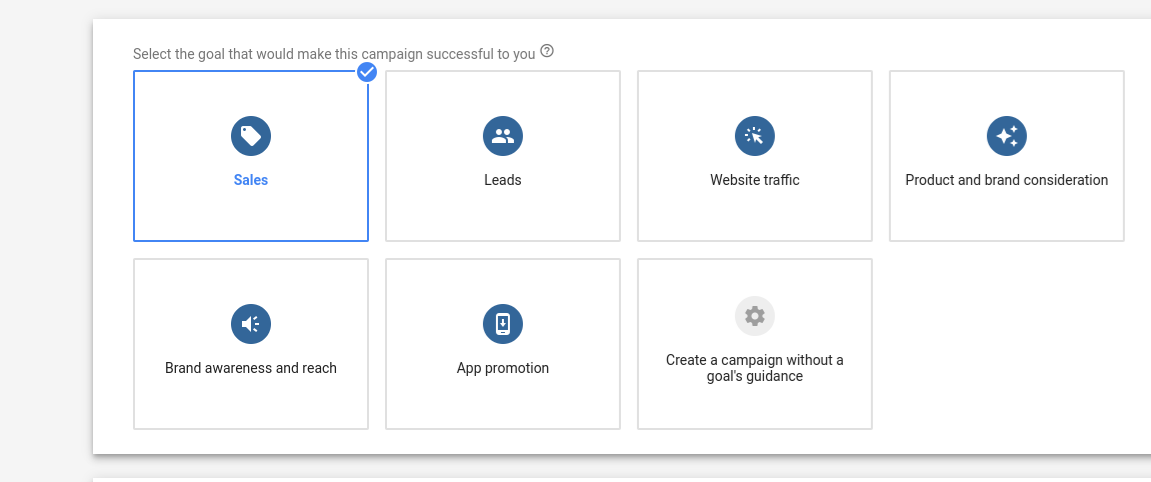 The first thing that you have to do before you start your Google Ads campaign is to identify your goal. This goal can vary according to the type of business you own and what do you wanna achieve from your business. Setting up a Google Ads campaign can be very confusing if you don't know what exactly all those options mean on its goal section and what all channels are used by them. Few of the goals Google Adwords provide are –
Sales

This is in case you are selling any type of product or service like apparel, shoes, online paid classes or website designing services on your website or blog and are interested in increasing your sales.

Leads

This can be your goal in case you want to get more leads from your website. It might feel little confusing as to why not opt for increasing sales as the end goal even in the case of leads generation is to successfully convert your leads into sales. The reason for this is in many cases a deal can not be closed online. Maybe for your business, website is one of the medium for lead generation and in the end a physical meeting is must for closing the deal or making a sale. For example consultancy services. Video ads can be used in this case but can't be used in case of goal 'Sales' for the obvious reason that video ads don't lead to a conversion straightaway.

Website Traffic

If you are a blogger or if you own a website that provides information to users on about anything like news company, your goal will be to get more visitors on your website. For that, selecting 'website traffic' as your goal will be ideal.

Product & Brand Consideration

This is mainly used for engagement ads.  This option in addition to increasing your web traffic, also helps you in increasing the customer engagement by providing more information about your business. These ads generally target in-market audience. In-market audience is the audience that is actively researching and comparing your product on Google Display Network. You should definitely use this type of goal if you are trying to educate the customers about your product and helping them learn how your product is different from your competitors. These type of ads are not available in search form as not enough information can be provided and thus, it fails the very purpose these are made for.

Brand Awareness and Reach

This goal is useful when you are launching a new product and want to make people aware of that. It's also helpful when you are trying to enter into a new market. This goal will help your ad reach many people and will increase the exposure of your brand. It's also not applicable for search ads for the same reasons as Product & Brand Consideration goal.

App Promotions

Select this goal if you want more install and interaction with your app. The ads will appear not just on Google search, Google Display Network but also on Google Play. You don't have to design any ad, you have to just provide some text and rest will be taken care by Google.
Selecting right goal is very important for the success of your Google Ads campaign. Has your Google Ads campaign ever failed just because you selected the wrong goal? Please let us know in the comments or send us a mail as we will be excited to know your story.