Here is the easiest step by step tutorial to set up your first Google Ads, earlier known as Google Adwords.


Google Adwords Ads setup
Setting up Google Ads is divided into three major three steps –
Setting up your Google Campaign
Creating up your Google Ad Groups
Running up your Google Ads
How to Set up Your First Campaign?
Campaign Settings
Step 1) Goal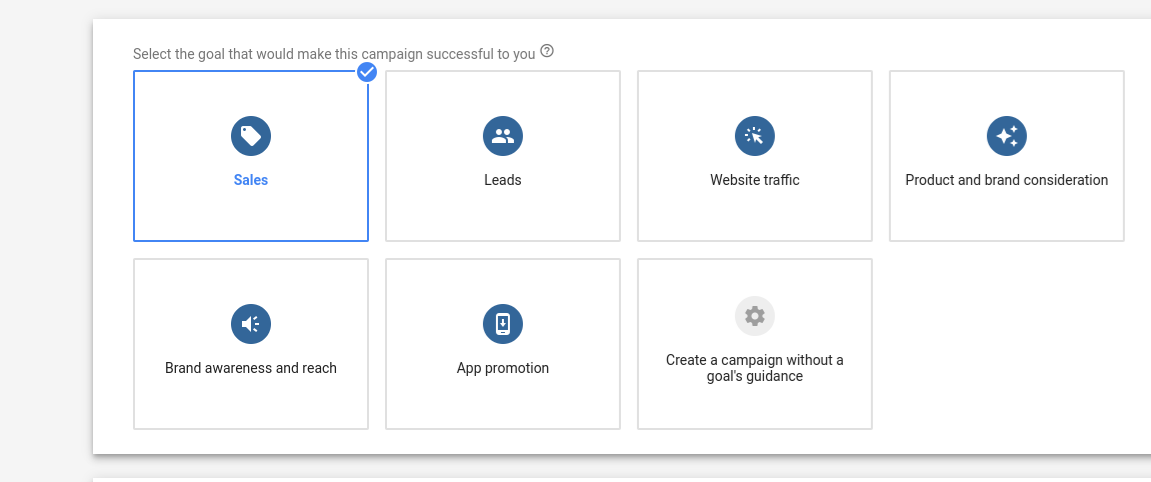 The first thing that you have to do before you start your Google Adwords campaign is to identify your goal.
It can vary according to the type of your business and what are your expectations from that.
Few of the goals Google Adwords provide are Increasing Sales, Leads Generation, Website Traffic, Product & Brand Consideration, Brand Awareness and Reach and App Promotions.
You can learn more about these on our last blog "Confused About Which Google Adwords Goal to Select?"
Step 2) Campaign Type for the easiest google ads tutorial
Google Adwords generally shows you 2 to 4 campaign types dependent on the goal you have selected.
These four campaign types are Search, Display, Shopping & Video.
. If you have selected leads generation as your goal, you might see all 4 types, if you have selected increasing sales as your goal you might see just Search, Display & Shopping. Let's try to understand the purpose of each –
Search


If you want to show your ads on Google search and Google search partners, this is what you want to select.

The ads are generally text ads.
Google Search Partners are those companies who have partnered with Google to show your ads.

These include Google search websites like Google Shopping, Google Maps, Google Images, and others. These also include AOL, search directory pages and even product pages on Walmart, Amazon, eBay, and many other partner websites.

Display

These are visually vibrant and striking ads.

They also include images in addition to the text.
These ads are generally shown across the web including in-app and in-store.

Shopping

These ads are shown on Google search and also on Google Shopping.
These are meant to increase the sales both online and in-store.

Video

These are the ads in the form of videos that allows you to show more information about your product. And also to increase your conversion rate.
Step 3) Ways to Reach Your Goal
There are 4 options available for this and you are allowed to select more than one here.
Website Visits
Phone Calls
Store Visits
App Downloads
Step 4) Campaign Name
You have to give a campaign name here like 'Campaign Growth'.
Step 5) Network
It generally shows two types of network that will be used for your campaign-
Search Network

Your ads will be shown on Google Search. It also gives you the option to include Google Partners.

Display Network

Your ads will be displayed on a big network of websites across the internet.
These ads will be shown when a user is browsing any of these partner websites, or is watching a video, or is browsing apps.

There are over 3 million sites as Google Display Partners with reach to over 90% internet users (according to Google.)
The only thing that we have to choose here is whether we want to include even search partners and display partners. My advice for this section is to try all the possibilities here to see which one is giving the best results.
Step 6) Location
You can choose here where you want to show your ads.
It can be worldwide, or in just one country, or just one small part of a country.
It also lets you add or exclude cities and countries if you want.
Step 7) Language
Select the language you want to target.
Step 8) Audience
8a) This will let you decide what type of audience you can have for your campaign. You can select it based on various options like –
Who they are (detailed demographics)

You can specify the demographics here to target the right user who will be interested in your services. You can narrow down your audience based on their parental status, marital status, education, and homeownership status.

What they are actively searching or planning (in the market)

It helps you in selecting the right type of in-market audience. You can select any of the various options provided here about what your audience is actively searching on the internet like baby products, travel or any other thing.

How they've interacted with your business (remarketing)

It's about remarketing. We will learn about it later.
8b) Next we halve to decide how do we want to target the above-specified audience
Audience Targeting Settings

Google AdWords provides two ways for Targeting and Observation. Here is the difference –
Targeting

This setting lets you decide who you'd like to reach with your Google ads or where you'd like your ads to show on the internet.

It narrows your audience and thus restricts your reach.
It was earlier known as Target & Bid. If you select this option, Google will display your ad only to the audience you specified or the in-market audience you just defined.

Observations

This setting lets you monitor how your ads are performing for your selected audience, placements, and topics.
It's also known as Bid Only.
If you observe that your selected in-market audience is doing good, you can increase your bid here or you can change it from Observations to Targeting.
If it's doing bad, it will let you observe that and you will be able to change your settings.
Step 9) Budget
Add the budget you want to spend every day. Your budget will not exceed this number.
There are two types of delivery method for your budget. You can select either standard delivery and accelerated delivery.
Standard Delivery

In the case of standard delivery, your ads will be shown the entire day.

Google will make sure that your budget is evenly distributed to show your ads throughout the day and does not get over by morning itself.

Accelerated Delivery

In case of accelerated delivery, your ads will be shown as often as possible until your budget is finished, which can happen even within a few hours as a day starts.
Step 10) Bidding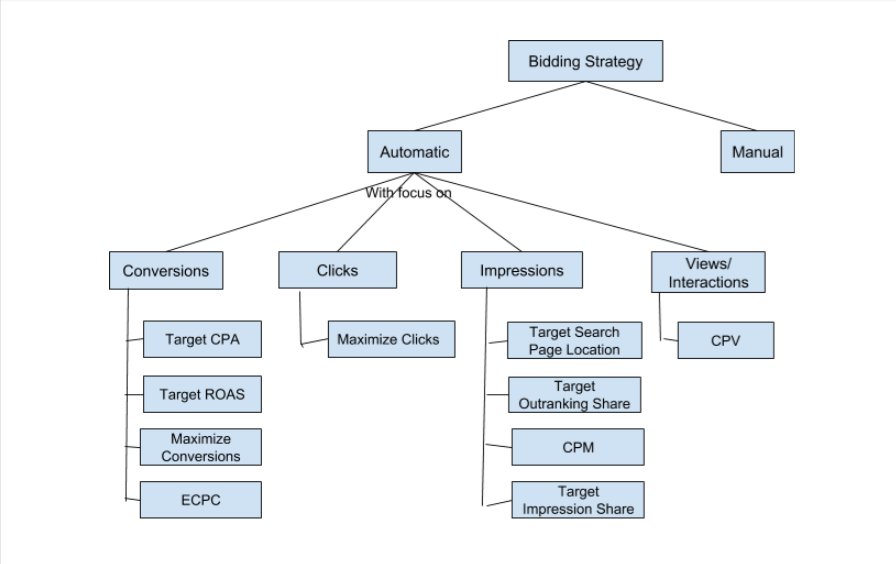 This part is divided into three parts –
Purpose of your Bidding

Here, you have to focus on the primary goal of your bidding.

It will be dependent on the type of campaign you have selected. It can be getting more clicks, conversions, impressions or any other.

Generally, Google automatically selects it for you.

Max cost per action

This will be dependent on the purpose of the bidding that you have selected.
If it's getting maximum clicks, it will be max. CPC bid limit, if it's getting maximum conversions, it will be maxed cost per action.

Similarly, it will allow you to set a maximum number for all types of actions available.
If you want Google to automatically decide it for you, leave this blank otherwise you can enter the maximum amount you are okay with for a bid.
Bid Strategy
There are twelve types of bidding strategies available divided into two main categories of Manual & Automatic.
These are the Target CPA (Cost per Acquisition)
Target ROAS (Return on Ad Spend)
Maximize Conversions
Enhanced CPC, Maximize Clicks
Target Search Page Location
Target Outranking Share
CPM (Cost-per-thousand-impressions)
CPV (Cost-per-View)
Target Impression Share
vCPM (Cost-per-thousand viewable impression).
Step 11) Ad Schedule
It gives you an option to decide when do you want to run your ad which can be just for two hours in the evening, office hours, entire day or any other option of your choice.
Step 12) Ad Rotation
This gives you information related to the ad rotation. Moreover, If you have got many ads under your ad groups, it gives you the option on how to show those ads as only one ad can be shown at a time.
Step 13) Extensions
Extensions let you expand your ad with additional information. Google says you can get a 15% higher clickthrough rate by using various type of extensions like –
Sitelink Extensions

It takes you to specific pages on your website which can be your contact us page, more product information or anything else.

Callout Extensions

It lets you include the additional text so you can give more details about your product or service.

Call Extensions

This allows you to add your contact number in your ad.

Structured Snippet Extensions

You can highlight a specific aspect of your product/service with this extension.

App Extensions

This allows you to link your ad to your mobile or tablet app.

Message Extensions

It lets your potential customer send you messages directly from the ad.

Location Extensions

It helps people find you by showing your address, your location on a map or the distance of your business from them.

Promotion Extensions

This allows you to show special ads and offers with your ad.

Price Extensions

This allows you to share with your audience more information about your product and prices and from that price menu, they can directly go to that product page they have shown interest in.
Step 14) Start and End Date of Your Campaign
You can leave the end date blank if you are planning to let the ads run for a while.
Step 15) Campaign URL Options

It allows you to add tracking information here.
Step 16) Dynamic Search Ads
This option is suitable for businesses with a well-developed website or a big inventory. In these ads, when someone searches on Google with terms closely related to title or phrases on your website, Google selects the landing page based on that phrase and generate a headline to reflect that searched phrase.
Ad Group Settings
Step 17) Ad Groups
There are two types of ad groups – Standard and Dynamic.
a) Standard Ad Group
In the case of standard ad group type, you choose keywords and write a text for your ads.
b) Dynamic Ad Group
In the case of the dynamic ad group, your website's content is used to create headlines automatically.
Now, give a name to your ad group and enter keywords.
Ad settings
Step 18) Create Ad
It is divided into 3 main parts – Headline, Description and Final URL. A headline is of 30 characters and description for 90 characters. Final URL is the URL of your landing page.
However, if you still have any doubts related to setting up your Google Ads, please drop us a message.
Get in touch if you'd like us to run your google ads campaign, We are a PPC Management Company in Brooklyn, New York