Keyword research made easy for any business! So… you have got a great business idea!!!
An idea that you think can revolutionize the business world or can solve most of the people's problems.
You hire a website developer and get the website up and running in no time. But after some time you realize that you still have not started getting the clients. As a result, you form this big digital marketing plan for your business about how to get more visits and more clients to your website.
The most important part of your plan revolves around paid digital advertising, or pay per click advertising or cost per click advertising. Eventually, the sea of paid advertising starts drowning you in it, as it is humungous which expands not just to search ads like Google ads and Bing Ads, but also to other types of ads like display ads and remarketing ads.
The process starts to seem too lengthy and complex but you are determined and continue working on it. You divide your paid advertising plan into various small actionable tasks starting with "Keyword Research."
If you have ever done it in the future, you know what a time and energy consuming task it is! It's not as easy as it seems. It involves a lot of strategizing, analytical skills and good researching skills to formulate that perfect list of keywords.
Combination of (Strategy + Analytics + Research) skills = Effective Keyword List
Here are 5 steps that can simplify the task of keyword research and help you find the perfect keywords for your business –
Step 1: Google Trends
The first step that I generally recommend to everyone, and which I think is must and shouldn't be ignored at any cost is to do a little research on Google Trends. This is a very great platform provided by Google to spot trends.
Whatever is your business idea, search various terms related to that on Google Trends and analyze what kind of trends are appearing there. Let's say you are starting an electric vehicle business, all you have to do now is to search for some closely related terms to your business and study the relationship. In this case, search for terms like climate change, global warming, non-renewable energy, electric cars, etc.
You will find that climate change is showing an increasing curve, which implies people are getting more and more aware of climate change and are actively searching about it. This means that it's a good time when you can pitch in your electric vehicle concept to your audience.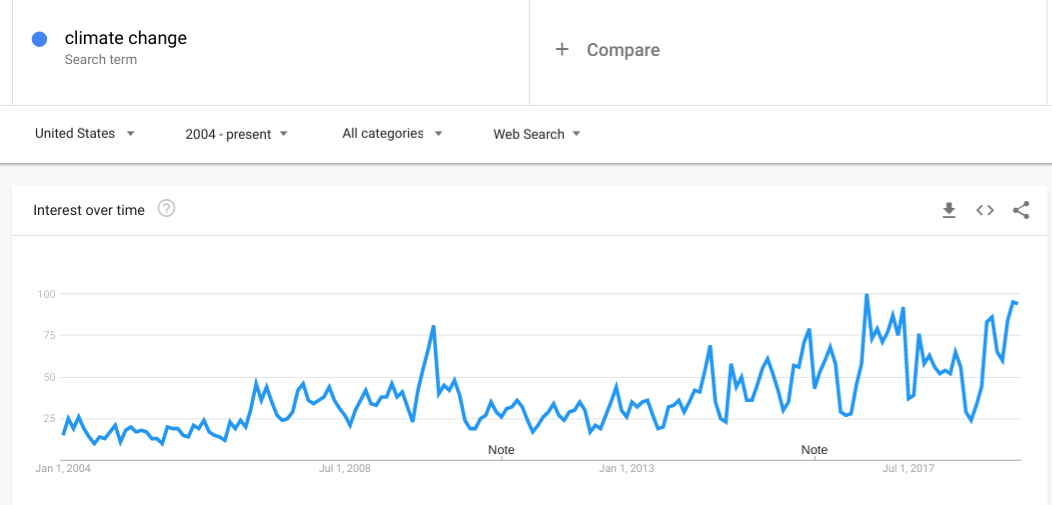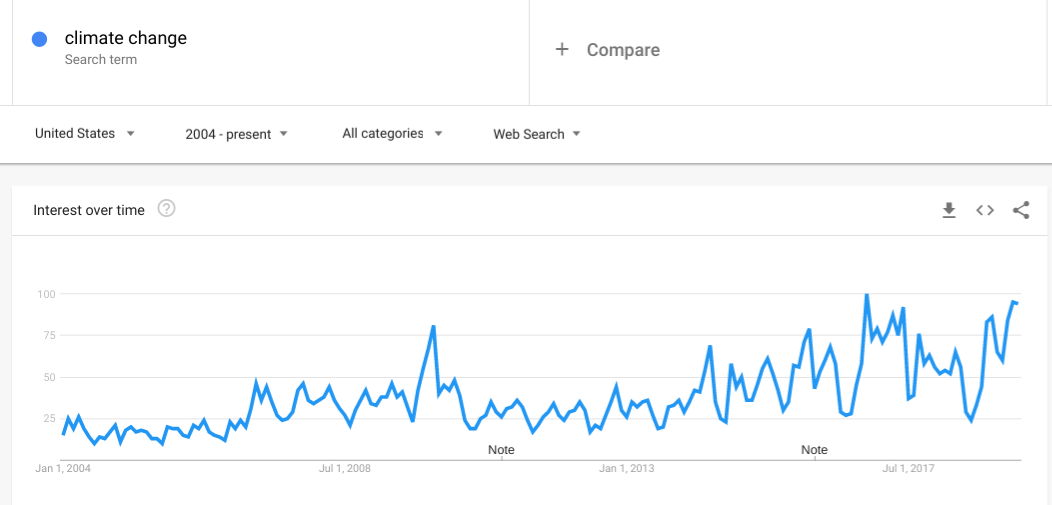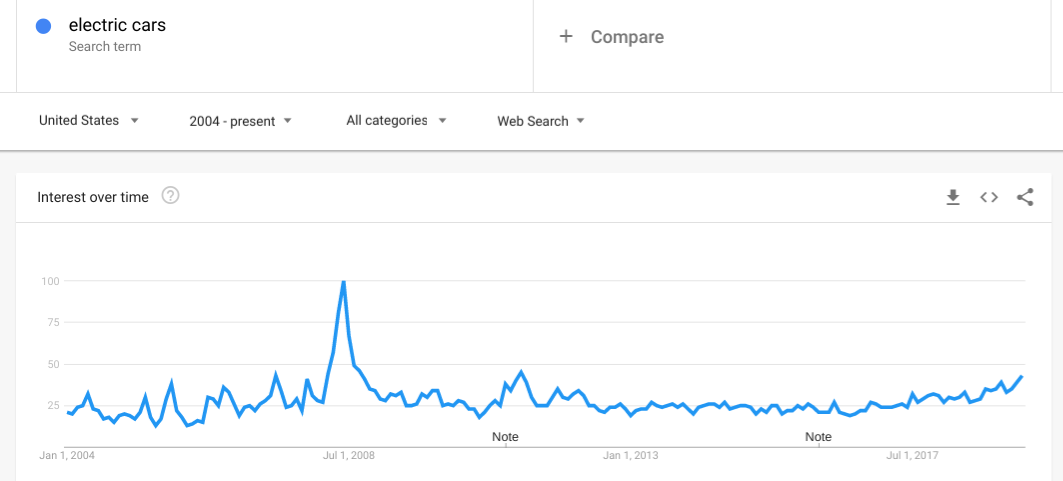 Trend Identification = a1*b1*c1…/a2*b2*c2…
Where a1, b1, c1 and so on are search terms that share direct relation to your business and a2, b2, c2 and so on are search terms that share indirect relation to your business.
For Example Electric Vehicle = Climate Change * Electric Cars * Solar Energy * Global Warming…./Non-renewable Energy * Coal* Fossil Fuel Energy…
This might not give you the exact answer but will still help in shaping your thoughts for the success of your business.
Google Trends will also help you in identifying fads.
Google Trends can also prove very useful in informing you what you should and shouldn't do. If you have already entered a bad business, it will give you time to expand your business to other areas before the demands fall to zero.
Step 2: Google Keyword Planner
Once you are done doing your initial research on Google Trends, the second step will be to take advantage of Google Keyword Planner. This is another powerful tool by Google to ease the process of Keyword Research.
All you have to do is add the word/words related to your product or service and hit the search button. Google Keyword Planner will then show you an exhaustive list of keywords with other useful information like how many searches are happening for that word and other words related to your search terms, and what will be the cost you have to pay for a click.
The important question here is which keywords to include and which keywords to exclude.
The simple solution to that involves a lit bit of analytical skills. Nothing too scary though.
Let's start by focusing on the columns those are important for the success of our keywords. Check the following priorities:
1: Low CPC
2: High Volume
3: Low Competiton
Keyword Inclusion Number = Search Volume / CPC*Competition
For example: Let's say CPC is $15, Volume is 4000, Competition is .3, the keyword inclusion number will be = 4000/15X0.3 = 888.8
You can easily add this formula in your excel sheet and calculate the Keyword Inclusion Number, sort it out in the descending order and include as many top numbers as you want.
Another thing that you can do at Google Keyword Planner is a location-based search for your product/service/idea.
Let's say you want to start to an electric scooter business. A location search will show you that California in the United States is the hot market for that business right now which will give you plenty of ideas for targeting your customers and forming right location-based keywords.

Step 3: Google Suggestion
The terms that you see at the bottom of the google when you search anything are known as search suggestions. Those are the terms that people are also searching and are also related to your business.
You can use those terms in your keyword research.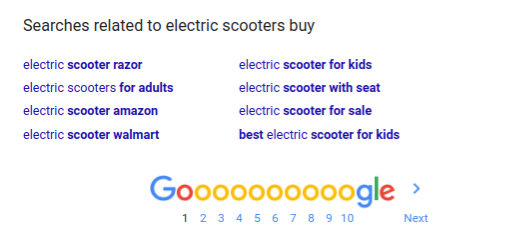 Step 4: Competitor Spying
There are many online tools available that you can use to see what keywords your competitors are targeting and you can add those in your list.
Step 5: Competitor as your keywords
You can also use your competitors' brand as one of your keywords. For example: as a Nike shoe seller, I can add terms containing Adidas shoe in my keyword list.
If a person is searching for Nike shoes, the chance is that he can show interest even in Adidas shoes. The customer is still in the decision-making process and hasn't reached at the last stage yet and you still have the chance to influence his/her decision.
These are the 5 steps that you should always keep in mind while making your keyword list.
Was there any problem that you have faced in your keyword research experience? Please share your thoughts in the comments and we will use it as a subject for our next blog. Contact us here.