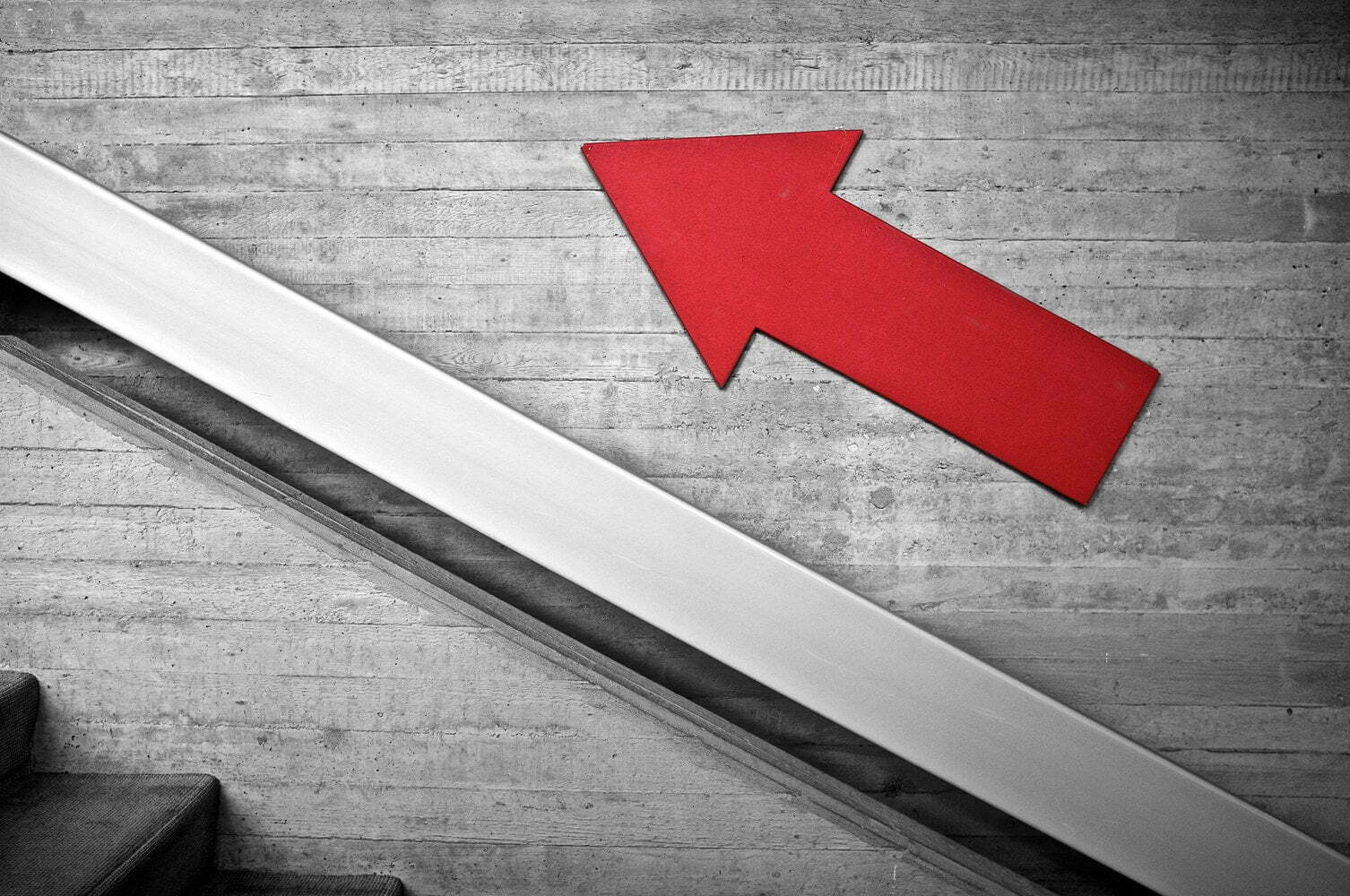 10 simple tricks that will help you in finding useful keywords with Google Trends
The success of your digital campaigns or your website/blog, in general, depends very much on the selection of your keywords. Yes, you heard it right. Right keywords have the power of making or breaking your business. Even though making a list of keywords seems like a very easy task, in reality, it's not.
On the contrary, finding keyword is the most important, most time consuming and most challenging task of the entire digital brand building process.
Using Google Trends as a Keyword Planner
Google Trends is one of the best tools for making your keywords list. I would suggest that before you use Google Keyword Planner, you should try using this tool first as it will help you in forming the rough draft of what you are looking for in a better way. Here is a list of why and how you should use Google Trends to improve your web business-
1) Helps You Find Good Keywords And Not Just Keywords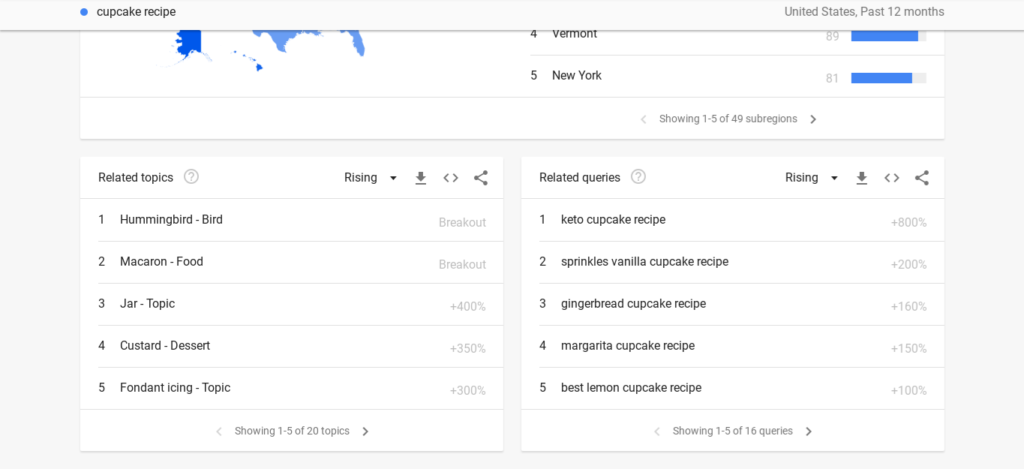 Before starting our search for keywords, we have to remember there is a very big chasm between finding just keywords and finding good keywords.
Good keywords are not just relevant to your business but are also very effective in bringing traffic and ultimately clients to your business. Google Trends seems perfect for this as it helps you in understanding the popularity of a keyword- not just your country but also in your city.
 It will let you know which topic is in trend and in which location that will definitely help you in finding the right keywords.  Like Digital marketing is not a good keyword even though it's a very searchable term. Why? Good Question!
Because people are more searching for digital marketing classes, courses, tips & tricks etc rather than companies. So, as a marketer of a marketing company, I will not use that keyword here on Bizadmark. 
Actions:
Make a rough list of few keywords.
Explore them on Google Trends.
Check out their popularity graph in the cities where you are planning to target your business.
Finalize few according to their performance.
2) Helps You Find The Right Keyword Out of All The Word Variations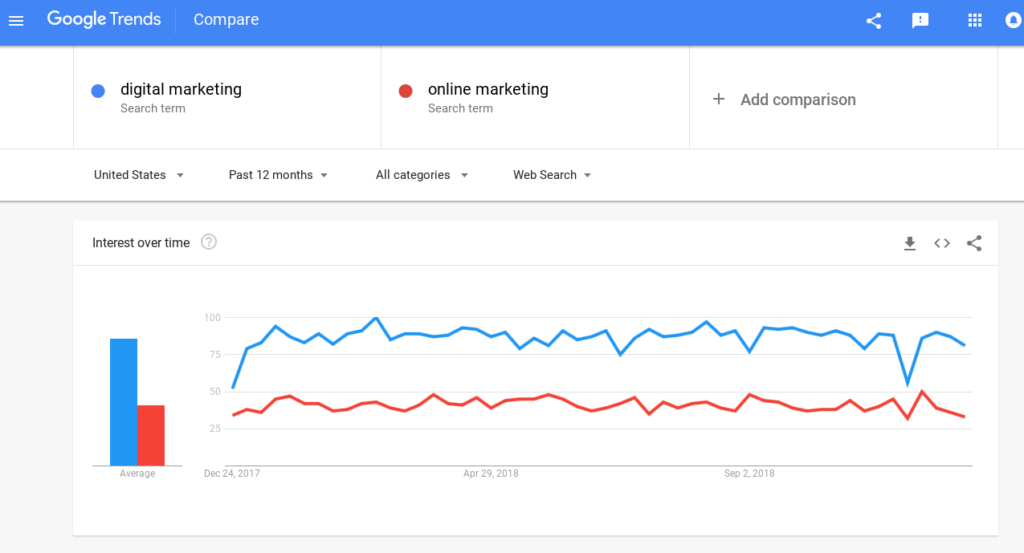 (online marketing is not as popular as digital marketing)
Google Trends is very useful in identifying the right keyword for your business.  
Misspelled words and variations of a word are treated differently than the actual words. There can be a possibility where digital marketing or digital marketing will be yielding more results as compared to the word 'digital marketing'. In that case, it might be useful to target the other word variation to increase the traffic. 
You have to check to make sure that you are targeting the most yielding word.  As shown in the picture, online marketing is not as popular as digital marketing, so it's better to stick to the second.
Action:
Search for word variations and misspellings of your targeted keyword on Google Trends.
If those keywords are doing better than the actual keyword.
ADD THEM in your final list.
3) Helps You Sail in the Popularity Boat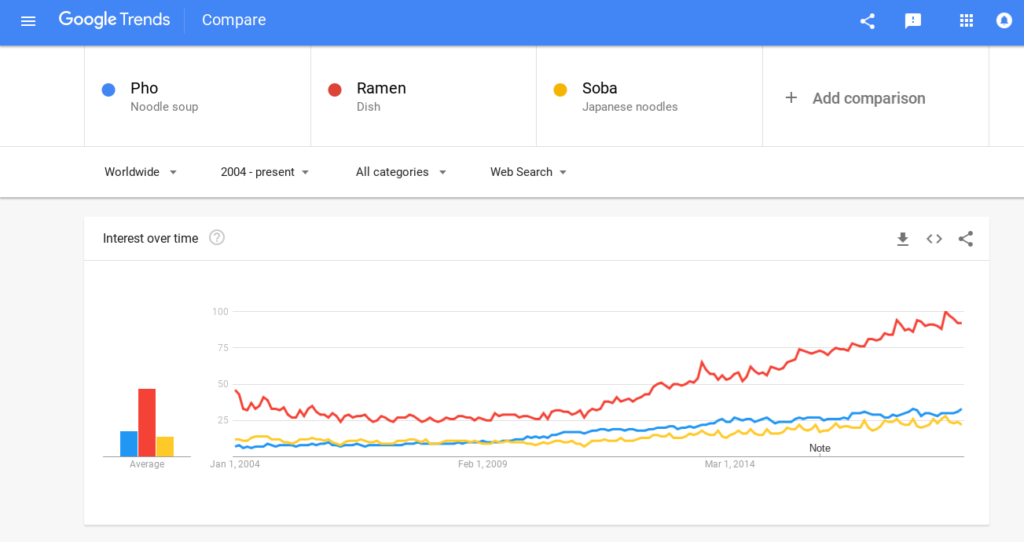 Google Trends not just lets you know the popularity of a keyword but also the rise and fall in popularity of that keyword. It helps you to know whether people will search for the keyword that you are planning to target or not.
Action:
Find the word related to your business that is rising in popularity currently.
After this, try building some keywords around it or in association with it.
4) Helps You See What Others Are Thinking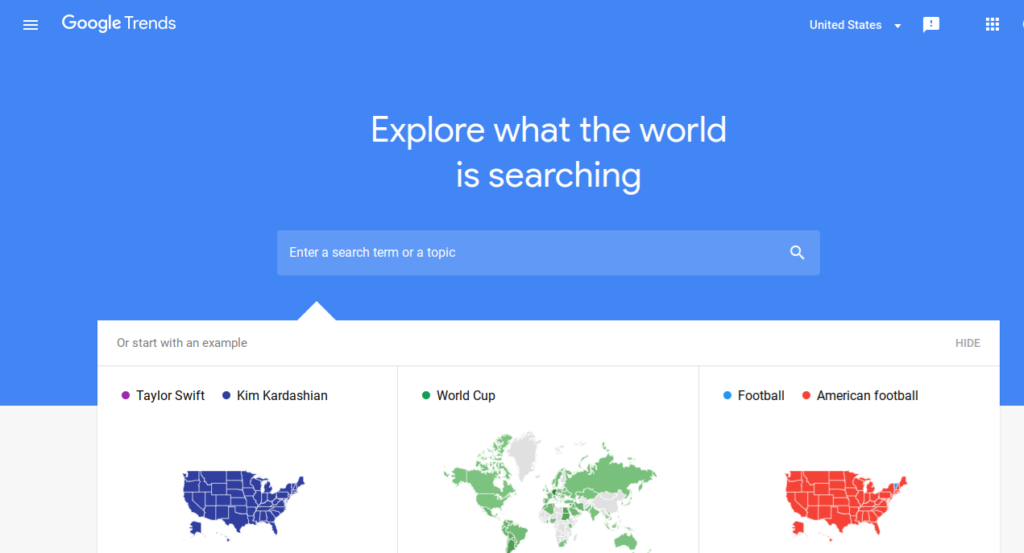 Google Trends helps you in finding out the public interest in a keyword.
This popularity is generally measured in relative terms rather than absolute. As compared to Google Keyword Planner which gives you an absolute result, Google Trends gives you Relative results.
Popularity = Keyword or Key Phrase Search Volume / Total Number of Searches
As clear from the formula, the popularity changes either when people are not searching that query as they did before. And it also changes when the total number of searches increases or decreases even if the query's search volume remains constant.
Action:
A little research on Google Trends about why your keyword isn't working well can help you in improving your SEO.
5) Helps You Take Advantage of Seasonal Topics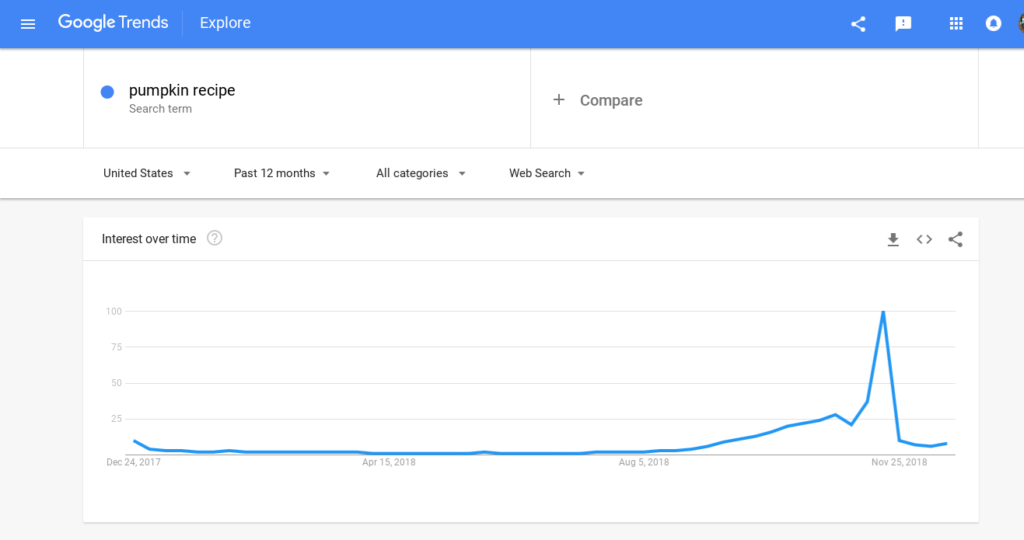 There are always some trending topics related to different seasons and months. You can write blogs to coincide with those seasonal trendy topics to attract more traffic, or use it in your online ad's copy and gain more visibility.
Just to give an example if you have a cooking blog, you can write about recipes containing pumpkin during fall season or can optimize already existing pumpkin recipes. You can also use such seasonal keywords to get some extra seasonal business.
Action:
Capitalize on the trending topics.
If the topic already exists on your website, update it with new information.
6) Don't Get Influenced by Sudden Popularity Spikes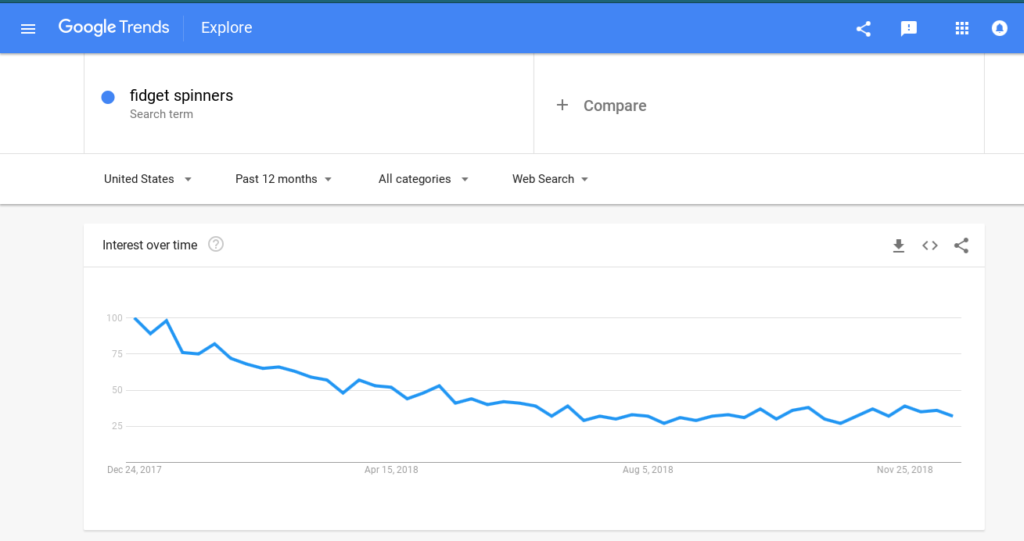 You might sometimes notice some uncommon popularity spikes. These sudden spikes can be the start of a new trend or can also be a fad that will die soon.
Action:
Think twice before directing your web strategy towards a new trend. It can be a fad.
7) Dig Deeper To Know Why Your Favorite Keyword is not Working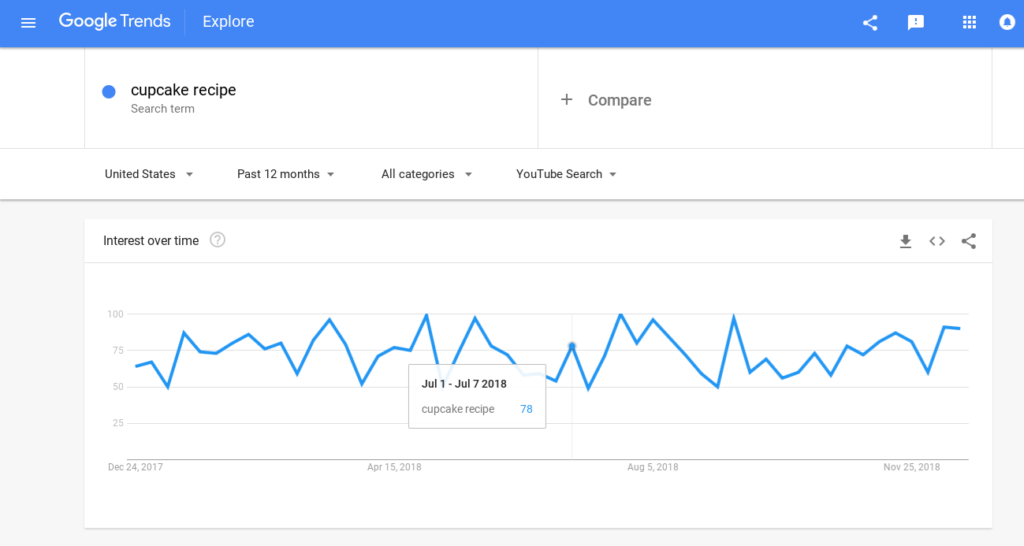 There can be many reasons why your keyword is not working. Most important being competition is too high, or there is a mismatch in your keyword and your content.
But if you think everything is okay and your selected keyword should give better results, you need to dig deeper before removing that keyword altogether from your list. Many times there is no change in the search volume of your keyword, but the change is in the overall search volume (check the Popularity formula above).
Another noteworthy reason can be that the people are still searching the keyword but more on google partners like YouTube rather than on Google itself. For example, people are shifting from text search to video search for topics like recipes and tutorials. As shown in the picture above for cupcake recipe, there are more YouTube search taking place as compared to web search.
Action:
Sometimes you are not exactly targeting the keyword what people are searching.

It gives you a chance for improvement and great opportunities for content creation.
8) Improve Your Local Marketing Strategies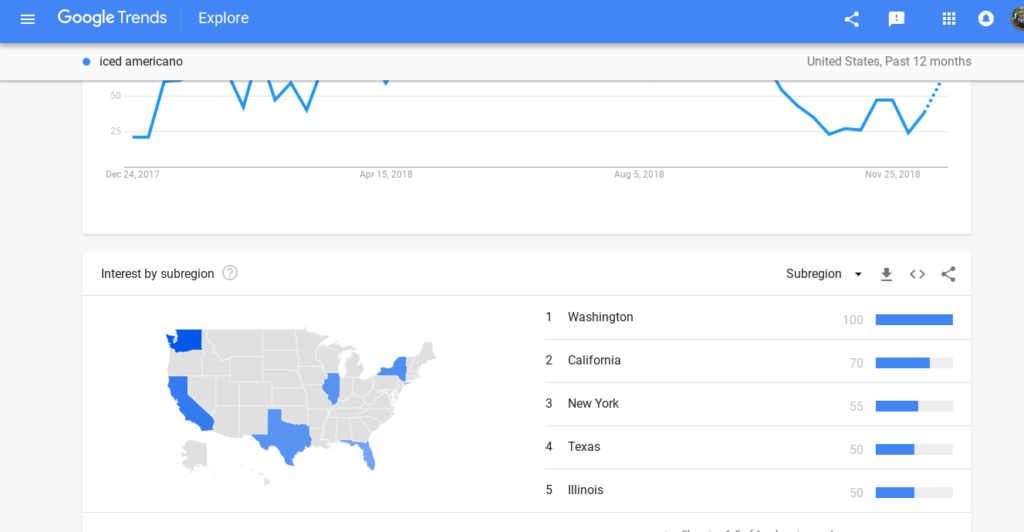 Google Trends lets you do geography based searches.
This proves very helpful in understanding the local market at a deeper level. It can also be used in planning your market expansion strategies. You can start by search your keyword and check out which cities are showing up corresponding to that.
9)  Find Real Time Marketing Opportunities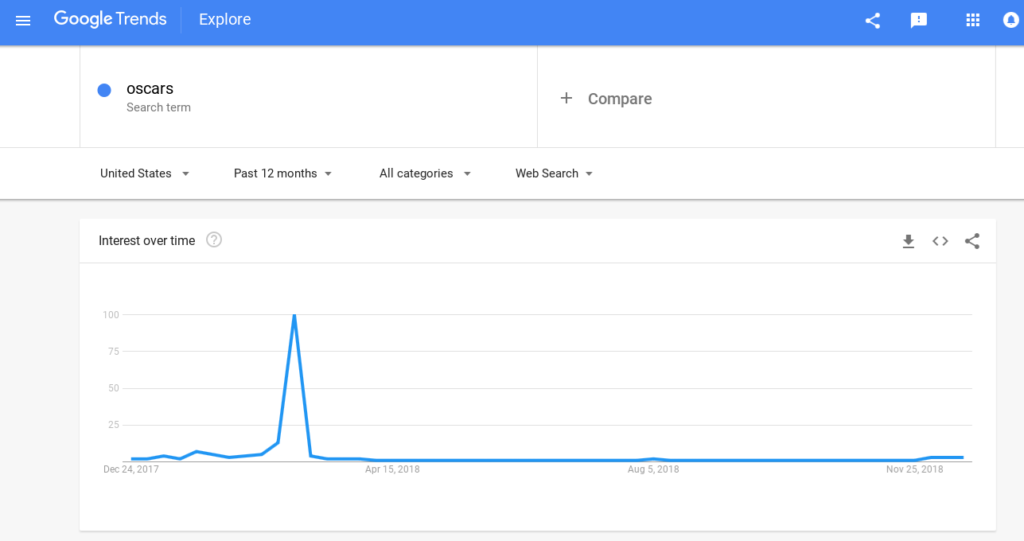 Google Trends gives you many real-time opportunities.
From old graphs, you can check the time period of big events like Oscars or Super Bowl. Spikes can suggest what topics gain more interest during those events and you can devise a marketing strategy for that.
10) Helps in Checking Your Brand Health
If you are an established brand, Google Trends can help you in checking your brand health.
All you have to do is search your product and see where it ranks. In addition to that, what all other brands are being shown. It can help you improve your marketing strategy by analyzing the consumers purchasing trend.
Always remember to explore the context of any keyword search like short range versus long range, popularity in different countries and popularity according to different search type. Many times the keyword seems not doing well in short range but overall it's slowly progressing.
Google Trends Overall
Cost: Free
Ease of Use: 4 / 5
Should You Use it: Yes
Conclusion
Google Trends is actually way better than several other keyword planners that I have used. It has a better grip over what's happening around the world, and it gives you accurate keyword information – Not just based on search terms but being heavily based on several other factors.
Let me know, how Google Trend is working for you, in the comments below. Is there anything that I should add here?